Simple, cost-effective and reliable hosting services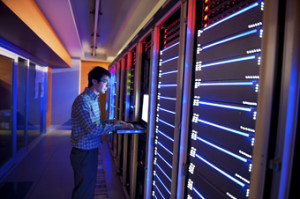 Reliable and affordable hosting services and server colocation solutions are essential in today's data-driven business environment—so is having the peace of mind that your systems are under the watchful eye of trained engineers.
Our hosting services are backed by years of expertise. Our team of pros will pre-empt any problems and keep your systems secure and your employees productive.
Exceptional service. Why waste time and energy worrying about your IT infrastructure? Reinvest that energy into growing your business. Leave the nerdy stuff to us—we'll make sure your servers and data are secure.
Dedicated server solutions. Whether you have one server or multiple, our dedicated server hosting is a great option for the business that wants the advantages of a dedicated server—but none of the responsibility.
Desktop support. These days, when tech trouble hits, workplace efficiency grinds to halt. Let us manage and supervise your support and desktop needs. We will be there to make sure your computers—whether you're running a Mac or PC shop—stay secure and fully functional.
Network and server support. Servers and networks are the vital organs of today's workplace. They store and disseminate your business' data and information, from the mundane to the mission critical. We will make sure everything stays healthy and operational.
Server Colocation. Our colocation servers are secure, monitored around the clock, and reinforced with redundant power and cooling systems. Our clients get 24/7 management of their physical devices, network and data center as well as remote access.
With our hosting services you get the performance, security, scalability and service you need at a price that won't break the bank. If you have any questions on which hosting or server colocation package is best for you and would like to talk to one of our engineers, give us a call. We will work closely with you to identify your needs, sort through the many options and find the best solution available.